New Delhi: Prime Minister Narendra Modi's convoy getting stuck on a flyover in Punjab on Wednesday, January 5 has attracted a lot of attention with several politicians talking about the same. Bollywood actress Kangana Ranaut, who is known to be quite vocal on social media, also took to her Instagram to express her amusement over the incident.
Expressing her concern for the Prime Minister, the 'Thalaivii' actress shared an Instagram story. She wrote,"What happened in Punjab is shameful, Honourable Prime Minister is democratically elected leader/representative/voice of 1.4 billion people. An attack on him is an attck on every single Indian…it is an attack on our democracy itself, Punjab is becoming a hub for terroristic activities if we don't stop them now, nation will have to pay a big price #bharatstandswithmodiji."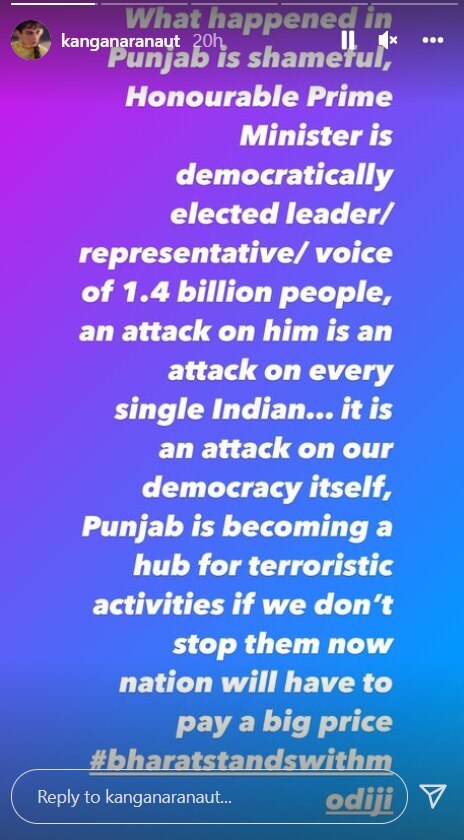 For the unversed, Prime Minister Narendra Modi was scheduled to lay the foundation stone of multiple developmental projects worth more than 42,000 crore in Ferozpur. The Home Minstry said in a statement that PM Modi landed in Bathinda on Wednesday from where he was to go to the National Martyrs Memorial at Hussainiwala by helicopter. Due to rain and poor visibility, the PM waited for about 20 minutes for the weather to clear out.
The statement further said that when the weather did not improve, it was decided that the PM would visit the National Martyrs Memorial via road, which would take more than two hours. The Prime Minister proceeded to travel by road after necessary confirmation of security arrangements by the DGP Punjab Police.
Around 30kms away from the destination as the PM's convoy reached a flyover, it was found that the road was blocked by some protesters.
On the other hand, Kangana Ranaut, who has been facing a lot of trolling for her comments on the farmers' protest, wishes to receive more love and less police complaints in the New Year.
On the work front, the actress recently filming 'Tejas'. She will also be seen in 'Manikarnika Returns: The Legend of Didda', 'Emergency', 'Dhaakad' and 'The Incarnation: Sita'.
With inputs from ANI.
ALSO READ: I Want Less Police Complaints And More Love Letters': Kangana Ranaut Marks New Year At Tirupati Balaji
.


Source link